Wang Shu, a Chinese architect, was awarded the 2012 Pritzker Architecture Prize for his buildings developed in China.
Mr. Wang, who is only 48 years old, is the first Chinese citizen to win the prize.
Jay A. Pritzker along with his wife Cindy established the Pritzker prize in 1979 with the idea of honoring a living architect with a bronze medallion and $100,000 grant. Thomas J. Pritzker, chairman of the Hyatt Foundation that sponsors the prize, is the one who announced the winner on Monday.  This year the prize will be awarded in Beijing on May 25 2012.
All of Mr. Wang's projects are in China. Two of the projects are museums located in Ningbo, a coastal city in south of Shanghai. The Ningbo Contemporary Art Museum was completed in 2005 and the Ningbo Historic Museum was completed in 2008.
The museum includes recycled architectural materials from the area to bring back that sense of what life used to be like in the harbor area. The photos of the museum are so remarkable and moving that one can only begin to fathom how beautiful the place is in person.
Mr. Wang also designed the Campus for the China Academy of Art in Xingshan, his native land, with reused materials. He used two million tiles from the demolished traditional houses in the area to cover the campus buildings.  His whole idea is why waste time and money on new things and new buildings when you can bring back beauty in memory and experiences with past materials.
Mr. Wang's father was a musician and amateur carpenter and his mother a teacher and school librarian. At a young age he strived to be an artist or a writer but was pushed by his parents toward a science and engineering. He studied architecture, which is actually on equal grounds, at the Nanjing Institute of Technology where he earned his degree in architecture as well as his master's.
Mr. Wang's first project was a youth center for small town known as Haining located in the Zhejiang Province near Hangzhou. The project was completed in 1990.
In 1997 Mr. Wang opened up Amateur Architecture Studio with his wife Lu Wenyu. Amateur Architecture Studio is known for incorporating recycled building materials from torn-down structures into new projects. In most cases, Shu works with construction workers directly in order to improve the discarded material into more elegant.
Following this in 2000 he completed his breakout project known as the Library of Wenzheng College at Suzhou University, which received the Architecture Art Award of China in 2004. Sozhou is a city famous for its gardens so Mr. Wang was very careful and precise when it came to honoring its tradition. He placed nearly half the building underground in order to make it seem as inconspicuous as possible.
According to Mr. Wang, the design for the Ningbo Historic Museum came to him one night when he couldn't sleep. He said he got out of bed and just started sketching out the design. who knew right ..
Given Chinas powerful economic power lots of momentum gaining mainstream attention has been growing, given the nation's powerful global economic influence. Now, its global design influence is clearly accelerating, too.
Lucky for him the projects turned out great.
Check out some links at the bottom for more and the picture thread to really visualize Mr. Wang's greatness.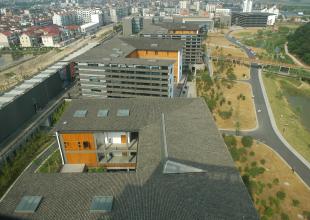 Xiangshan Campus, China Academy of Art, Phase I, 2002-2004, Hangzhou, China
Photo by Lu Wenyu
Xiangshan Campus, China Academy of Art, Phase I, 2002-2004, Hangzhou, China
Xiangshan Campus, China Academy of Art, Phase I, 2002-2004, Hangzhou, China
Xiangshan Campus, China Academy of Art, Phase II, 2004-2007, Hangzhou, China
Xiangshan Campus, China Academy of Art, Phase II, 2004-2007, Hangzhou, China
Ningbo History Museum, 2003-2008, Ningbo, China
Ningbo History Museum, 2003-2008, Ningbo, China